FOLDABLE UMBRELLA IN PVC POUCH
Highlights:
21 inch / 53 cm foldable umbrella with PVC pouch. 3 fold. 190T polyester. Opens manually.
COLORS: Yellow
SIZE: Ø94 x 58 cm
MATERIAL: 190T polyester
HANDLE: Plastic
OPENING: Manual
FOLD: 3 fold
Related products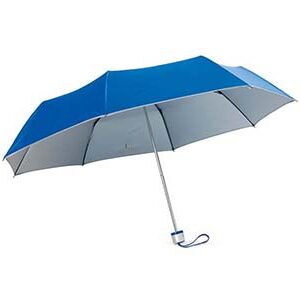 Highlights:
Foldable, 3 fold umbrella with silver lining inside. Matching coloured pouch. 8 panels, 190T polyester.
COLORS: Black, Royal blue
SIZE: Ø97 x 57 cm
MATERIAL: 190T polyester
HANDLE: Plastic
OPENING: Automatic
FOLD: 3 fold