ASA-27 PROMOTIONAL GIFT SETS
Highlights:
This corporate gift set Contains total of 3 Products packed in a black gift box are stylish better presentation.
AKE-07 : Metal Keychain with Fabric Strap
AMP-001 : Metal Pen with Stylus
ACH-06 : Business Card Holder
Related products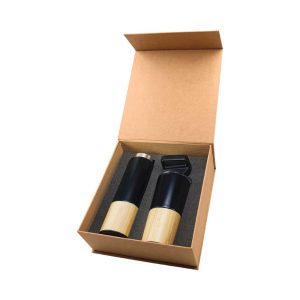 Highlights:
Gift Sets GS-20: Contains 2 products as listed beside. packed in a cardboard gift box with a cushion inside for product protection and presentation.
Product Combination
TM-016: Black Stainless Steel Tumbler with Bamboo
TM-017: Black Stainless Flask Tumbler with Bamboo