ASA-16 PROMOTIONAL GIFT SETS
Highlights:
This corporate gift set Contains total of 3 Products packed in a black gift box are stylish better presentation.
AO-02 : A5 Size Organizer Office & Business
AF-007 : Leather USB Flash Drive
A-59 : Slim Cable Powerbank
Related products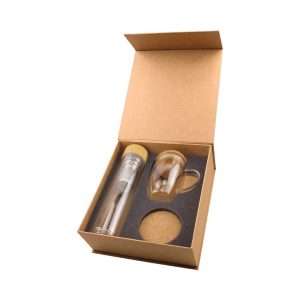 Highlights:
Eco-Friendly Gift Sets GS-30: Contains 3 products as listed beside. packed in a cardboard gift box with a cushion inside for product protection and presentation.
Product Combination
TM-014: Glass Flask with Bamboo Lid.
TM-030: Glass Cup with Bamboo Lid.
COA-02: Cork Tea Coaster.