AF-059 PLASTIC USB FLASH DRIVE
Highlights:
Promotional Metal & Plastic Swivel USB Flash Drive
Available Capacity: 4|8|16|32|64GB|
Related products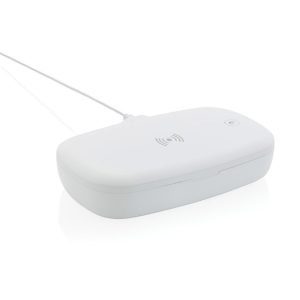 Highlights:
Multifunction UV-C steriliser that kills up to 99,9% of the bacteria placed inside the device. Simply place objects like earbuds, jewelry, watches and facemask inside the steriliser to sterilise them using UV-C technology. You can choose to do a quick clean in 90 seconds or a complete clean in 5 minutes. The 2 UV-C LED light inside is non-toxic and made without mercury like many UV lamps in the market. The design will also ensure that the UV-C led light will switch off automatically when the box is opened so the user will not be exposed to the UV-C light. The lights have a lifecycle of 10.000 hours. On top of the steriliser is a 5W wireless charger to charge your mobile device. Including 100 cm PVC free TPE type C cable. Input: 5V/1.5A; Output: 5/1A – 5W.