30″ ZEKE GOLF UMBRELLA
Highlights:
Umbrella with metal shaft and ribs. Plastic handle.
Material: Polyester
Size: ø 130 x 94 cm
Colors: Black, Navy, Red, White, Apple green
Compliance: Cadmium tested
Recommended decoration: Screenprint
Related products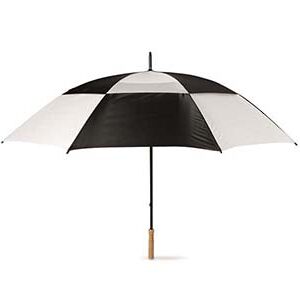 Highlights:
Wind-proof umbrella 30 inch / 76 cm with brown handle and black shaft. 8 Panels, 190T polyester. Manual opening.
COLORS: Black, Blue, Green
SIZE: Ø104 x 89 cm
MATERIAL: 190T polyester
OPENING: Manual
HANDLE: Wooden