21 INCH 2 FOLD UMBRELLA
Highlights:
21 inch two fold umbrella in pongee, with plastic handle incl. wrist strap. Trimming in reflective grey. Includes matching pouch. Automatic opening.
COLORS: Black, Neon green
SIZE: 53,5 cm
MATERIAL: Pongee
HANDLE: Plastic
OPENING: Automatic
FOLD: 2 fold
Related products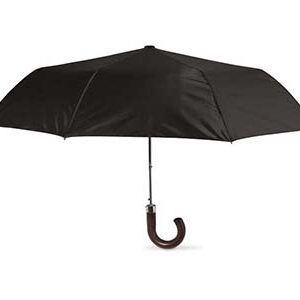 Highlights:
21 inch / 50cm, 3 fold umbrella with business style design and wooden handle with matching pouch. 8 panels. Opens automatically. 190T polyester.
COLORS: Black, Grey
SIZE: Ø96 x 58 cm
MATERIAL: 190T polyester
HANDLE: Wooden crook
OPENING: Automatic
FOLD: 3 fold